Glazing fish and seafood
Diepvries Urk is specialised in glazing fish and seafood products. As an independent partner, we glaze large batches for third parties and clients in the seafood industry.
What is glazing?
Glazing is the process of adding a protective layer of ice around the fish. This is used to improve the shelf life of the frozen product and to protect it against drying in the freezer. The glaze is transparent. Demi water is used for the glaze, giving the layers its crystal clear appearance. The result is beautiful and sparkling product presentation. The glaze can vary from 10 to 150% of the original weight.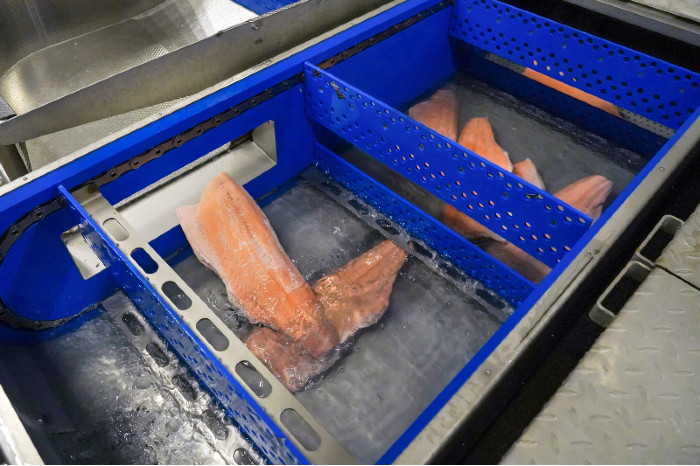 We offer solutions for
Diepvries Urk is flexible and agile and can respond at any point in the production process:
Glazing after fresh fish has been frozen on the freezing line.
Additional glazing or extra glazing at a later time
Freeze and glaze fish with preservation of moisture content and structure
Freezing and glazing are closely connected in the production process. Both steps can be carried out together or separately.
Fresh fish is rinsed before freezing. Up to 35% of fillet and whole fish can be frozen in a single run.
IQF fish product freezing
Diepvries Urk freezes loose, fresh fish products. To do this, we use a modern freezing plant. Whole fish or fillets are manually placed, after which they are very quickly frozen on the upper belt of the cold-air tunnel at a temperature of -40 degrees Celsius.
This lightning-fast IQF system is extremely suitable for fish and fish products, as the moisture content and structure remain virtually unaltered. This means that, after defrosting, the flavour and texture of the fish are the same as fresh fish.
Contact us without obligation
Looking for a co-packing solution? We look for a tailor-made solution together. Please feel free to contact Hendrik van Veen, +31 527 684 500 or via hendrik@diepvriesurk.nl